This month we looked at a range of Italian wines. The results were surprising!!
We began with a very unusual wine. It was a skin contact Pinot Grigio. This, in effect, makes it an 'orange wine' ie made as they do red wines where the grape skins are allowed into the fermentation. This extracts colour. The natural colour of the Pinot Grigio grape imparts a copper or tawny hue into a wine. 99.9% of all Pinot Grigio wines on sale have been made without any skin contact and so are white wines only.
Attems Cupra Ramato Pinot Grigio 2012
This is a fabulous wine that almost no-one liked at all!! It needs to be opened for a while longer than we gave it. It is monumental after a few hours ... recommend decanting. Intensely floral with fabulous structural integrity ie acid and fruit balance! Because it is an older vintage it came across as a bit stewed when it was first opened - my mistake. Sorry guys. It was astonishing later on .....
Lambrusco 2016 secco (Marks and Spencer)
A dry red Lambrusco! Sparkling. This was a surprise when it was poured as everyone was expecting a white wine. Liked by
everyone
on the night. I love this for its exuberant and yet dry fruit. Rich and delicious. Excellent wine.
Bosco Prosecco Frizzante (Spar and Eurospar €8.99 to end of Dec)
Great value. Loads of soft pear and honeysuckle elements. A crowd pleaser. Liked by everyone on the night. Frizzante Prosecco wines are Ireland's most popular sparkling wines. Low in alcohol good value fun!
Duca di Sasseta Vino Nobile di Montepulciano Reserva (Lidl €14.99)
Top class style and great value wine.
Really liked by the Club even though it took a while to explain that this is a Sangiovese based wine from Montepulciano in Tuscany and not a Montepulciano grape from anywhere else!
Smooth, warm, rich, light tannins, touch of balsamic, lots of stewed tea in the background.
Tenuta San'tAntonio Valpolicella ( Classic Drinks)
I have always been a fan of Valpolicella and as it happens managed to visit this winery many years ago. (At the time no-one spoke any English. Awkward enough ...) It was run by four enterprising brothers and the wines they were making were absolutely fabulous. Judging by this Valpolicella they still are! (I can still remember that it was there that I tasted, for the first and only time, a Reciotio di Chardonnay!)
This is a 70/30 blend of Corvina and Rondinella grapes showing a typical deep cherry imbued ruby colour and an intensely aromatic bouquet. Palate has a great depth of rich cherry/red berries with moderate tannin and a finely sculpted acidity. Really liked by the Club members.
Photos from way back in 2006 of Tenuta Sant'Antonio
Gianni Gagliardi Barbera d'Alba 2014 (Classic Drinks)
Gagliardi is pure genius stuff. Situated way up in Piedmont they make Barolo of the highest order where a ton of attractive fruit meets masses of structure. Anyhow that's Nebbiolo. We'll have to make that another night. I had none to show!!
This time around we had the Gagliardi Barbera d'Alba.
I'm also, as it happens, a Barbera fan where softness and rich fruit combine so well. All of Gagliardi wines are exceptional and its great to see them well distributed here.
Nicosia Etna Rosso (Marks and Spencer €15.50)
Sicilian wine of the highest pedigree.(Grapes: 80/20 Nerello Mascalese/Nerello Cappucio). Oodles of red berry cranberry like fruit. Excellent softness and depth and a really fine length. Great 'teaching wine' for anyone who might be wary of Italian reds. Shows southern warmth to a tee!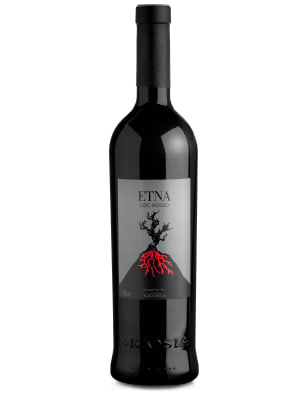 The point was well made this month that Italy is treasure trove of unique grapes and wine styles. Its also a well that wine drinkers can visit again and again and not grow bored or jaded. It is always exciting!
Next Month: December 3rd. It must be Sparkling.